A Christian Developmental Path
Written by Rob Loane on April 17, 2017
When people have recently asked me this question –"Who is The Journey for?"–I have found myself responding by pointing to this Christian developmental path diagram we have been using around our offices.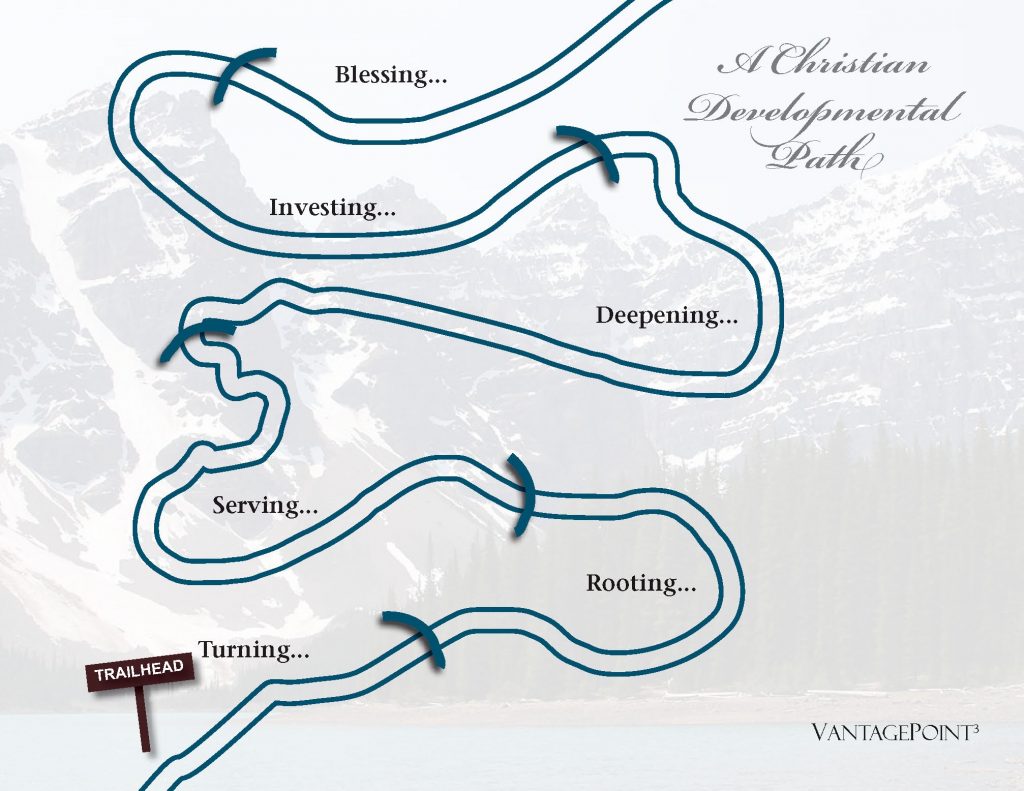 We've found it helpful (without prescribing a rigidity) to show where our VantagePoint3 Pathway fits within a broader understanding of a person's growth toward maturity in Christ (Eph 4:14-15; Col 1:28-29).  Each chapter along the journey needs attention from an adult discipleship and development perspective. So whether the person asking the question is thinking about the people in their community or about their own particular development, unpacking this path helps identify the discipleship and developmental needs. People at all six chapters along this path regularly participate in the VP3 Pathway. 
Here are some talking points on each developmental chapter. See what you notice about your own place on the path, but also prayerfully consider those in your sphere of influence — what sort of discipleship needs are you noticing?
---
TALKING POINTS FOR A CHRISTIAN DEVELOPMENTAL PATH
 Turning
How are we helping people learn how to share their faith with people "pre-Jesus"? How can we enter into loving relationships with those whom the Lord is wooing to himself? How do our discipleship efforts help people turn toward God through the work of Christ?
Rooting
Once we have made a commitment to follow Christ we enter another place of growth where we sink our roots into the fundamentals of what it means to live the Christian life.  How do we learn to read Scripture and pray?  What does it mean to become a part of a church community?  What about worship, serving, tithing, community, etc?
Serving
We come to discover our gifting, passion and even glimpses of calling as we put our hand to serving.  How do our ministries within the church help people explore through serving and come to learn what they care most deeply about?
Deepening
The deepening place along the journey invites us to explore some of the biggest questions of our lives.  We pay attention to the longing within for deeper intimacy with God, questions about our own identity, and what it means for us to pursue that sense of calling within.  The VP3 Pathway highlights, in particular, this deepening chapter in our growth toward maturity. 
Investing
Then we move toward a place of "investing" where our understanding of who we are and what we do are in greater alignment.  Our yes's are fewer and our no's are greater because we know it is important to steward our energies toward a more focused investment in the growth and development of others.
Blessing
From time to time you bump into someone whose life reflects that of a "senior saint."  They are the sort of people who seem to carry with them a spiritual authority.  They are still faithfully following and serving the Lord and exude a life of joy, love and power. Although they are still concerned with their own growth, they are mature and free to pass on to others what they have learned from their faithful walk with the Lord.  What sorts of adult development do we provide to help people move into this blessing place along the journey?
---
One of our guiding theological convictions as an organization is that God is not in the mass-production business. As you reflect upon this Christian developmental path, always default to the uniqueness of the person; please don't apply or prescribe them too linear-ly or rigidly. Our story of God's shaping development cannot be reduced to a simple line. That said, are we Christian leaders paying attention to where people are on their journeys of growing up into Christ?  These chapters can help those of us, who care deeply about our own development and that others, to name the next steps people may need to take in following Jesus.  
---
---
---
Comments
---