Is it time to lead a Journey group (again)?
Written by Rob Loane on July 19, 2019
At its simplest, VP3's The Journey is a meaningful walk with a group of people guided by three primary questions:
Who is God?
Who am I?
What does God want to do through me?
I have been reminded recently of how powerful this process can be, helping men and women wake up to the depth and possibility of the lives they are already living. Here's one person's experience after completing The Journey. She shared: 
I give God the glory for allowing me to take The Journey. Over the past few months, people would ask, What is The Journey? To tell you the truth, I was at a loss for words because I did not know where to begin.

It is not just a Bible study, although everything is biblically based and we study the Scriptures.

It is not just a book club, although we've read and discussed many thought-provoking books.

It is not just a prayer group, although we ended up doing a lot of praying.

I have read wonderful quotes, meditated on focusing questions and I meet with my mentor. 

It is a journey and I was blessed with a wonderful group of traveling companions.


VP3 often says the spiritual life is not meant to be traveled alone. We need others' support, challenge, and prayer if we are to finish well in life. 

Over the last few months, I have laughed and cried, agreed on many things and disagreed on some things. We shared and studied. We told our stories. I have learned how people could be so different, yet have so many similarities. How we each have our strengths to build GOD's KINGDOM. We have become a family.

Jesus continually invites us into a journey of learning and growing. I would encourage all of you to take this spiritual journey.
Grateful for the Spirit's work among this particular group's journey. Beautiful. It is such a privilege to get to walk alongside men and women and help them discover more deeply who God is, who they are, and what God desires to do through them. 
My prayer for the greater VP3 community is that we will each hear the Spirit's invitation to intentionally invest in others' lives. Fundamentally our lives are not our own to possess; they are gifts we offer to others and to the Lord. How then is this gift of your unique life a gift for others?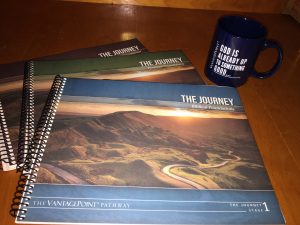 Leading a Journey group gives you a front row seat on this sort of meaningful impact and investment, witnessing the Spirit's deeply creative work–transforming lives.
Whether for the very first time or for the fifth time, might it be time for you to start a Journey group in your neck of the woods? 
---
---
Comments
---