The risk of birth
Written by Rob Loane on December 24, 2018
One person has written that we never know enough about Jesus to know what he is going to do next. Jesus continues to show up in unimaginable ways amidst the most unlikely of circumstances. 
On this Christmas Eve 2018—when certainly all is not well—let Madeleine L'Engle's thoughtful words remind us of the reality of Jesus' vulnerable birth, a story of risk and love, of surprise and great grace, that actually continues to unfold throughout history.
May we continue to trust and anticipate Jesus' surprising way amidst the great difficulties of living honestly and hopefully in this time and place.  
The Risk of Birth, An Advent Poem by Madeleine L'Engle (1973)

This is no time for a child to be born,

With the earth betrayed by war & hate

And a comet slashing the sky to warn

That time runs out & the sun burns late.

That was no time for a child to be born,

In a land in the crushing grip of Rome;

Honour & truth were trampled by scorn-

Yet here did the Saviour make his home.

When is the time for love to be born?

The inn is full on the planet earth,

And by a comet the sky is torn-

Yet Love still takes the risk of birth.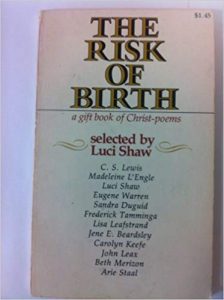 ---
---
Comments
---