What we do at VantagePoint3 is hard to explain. Curt Patterson helps us…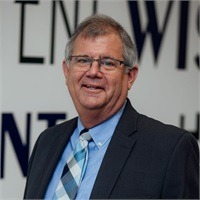 "I was looking for a way to impact leaders and leave a legacy in the second half of my life," says Curt.
Curt was introduced to VantagePoint3 at his local church, Orchard Hill Church, in Cedar Falls, Iowa in 2003. Curt and lead pastor Dave Bartlett were looking
for a way to develop leaders and deepen discipleship in their vibrant church.
Curt led Journey groups in the church for many years. He also continues to serve in various VantagePoint3 Board of Director roles since 2006.
But that's not the point of this mustard seed story. Just a backdrop.
In 2013 Curt experienced a 53-hour life-altering confinement to a hospital room. During the 53 hours, he was wondering IF there would be another chance to leave the hospital…it certainly made him think about what he had valued. The heart surgeon had stated, "you are fortunate to be alive today, there is a chance you will not make it through this surgery, I just want you to be aware." God granted Curt more time after his quadruple bypass surgery at age 54.
His already keen focus on what mattered most in life seemed to have sharpened, and he sensed the Lord inviting him to intentionally continue to facilitate at church using the VP3 Journey process. Then the focus changed, it was the Fall of 2019. The tug on his heart to go outside the church walls and gather 10-12 business owners or leaders that didn't attend worship in the same place. In fact, in most instances, they knew Curt but they didn't know each other.
Ten men said yes and came around his workplace table for 90 minutes weekly. Each one a formidable leader themselves. Each one sorting the demands of their lives. Each one curious about what they were doing there with these strangers, only to discover how the Lord was shaping them for his kingdom purposes.
"We are called to go and make disciples of all kinds. This is an important thing we must all find a way to do. VP3 sets the table for us to accomplish that call with joy," says Patterson. "I told each of them, 'you need this, come with me.' These guys help each other. They've gone from not knowing each other to becoming trusted friends."
We started in February 2020, and when we finished in December, they didn't want to stop meeting. Now they are caught saying, "I got 20/20 (discipleship) vision in 2020. We are so thankful for a community of fellow followers that can openly share life together." Patterson says "Now we are going through A Way of Life, and I've started a second group of 11 men through The Journey."
Curt has a mantra, "Pay attention to what is certain."
"Jesus Christ is certain. Life lived acknowledging Jesus as our Savior and surrounding ourselves with others who help us lead and live with the influence of what Jesus has done for us provides the ultimate roadmap. VP3 provides the structure for great community and discipleship for a beginner to a long-term follower. What I have found out is this: VP3 helps to set the table. It's a privilege for me to invite people and facilitate their growth!"
---