"How can I describe the kingdom of God? What story should I use to illustrate it? The kingdom of God is like a mustard seed planted in the ground. It is the smallest of all seeds, but it becomes the largest of all garden plants; it grows long branches, and birds can make nests in its shade." 
Mark 4:30-32 (NLT)
At VantagePoint3 we make it a practice of sharing mustard-seed-way kind of stories. Because they reflect the way that Jesus described how the kingdom of God would grow.
For perspective, Deborah Carnduff of Calgary, Alberta, has been a friend of VP3 since 2007. Prior to that, at what she describes as the lowest period of her life – marriage struggling, challenging teenagers, no joy in her teaching job – she was alone in her home and heard evangelist Billy Graham and the song, "Come just as you are." In a mysterious, Holy-Spirit ordained experience, Deborah met her Lord and Savior, Jesus Christ. It was an unmistakable invitation to follow Jesus.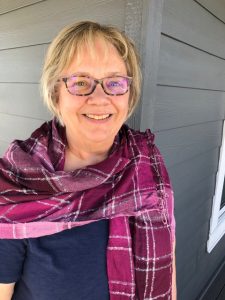 And that's what she quietly did. No one in her family was aware for two years. She started reading God's word and going to church. "At the time, I was as heathen as they come," remembers  Deborah. But at age 44 a mustard seed had been planted. 
Within three years that seed grew, impacting her ENTIRE family. Every single adult discovered life with Jesus. "It was unbelievable. And so powerful."
In a second wave of growth, Deborah and her husband started looking for paths to grow. They wanted to be apprenticed. They wanted to learn. "Our pastor of spiritual development was looking for a process to cultivate maturity in adults," recalls Deborah. "I was like, 'Pick me!'" And she did! 
Deborah and Rick, along with three other couples were introduced to Randy Reese and Rob Loane and were trained in leading The Journey process. Back home, Deborah and Rick invited four other couples to join them for what became years of growth and investment in each other and a deepening with God through the entire VantagePoint3 Pathway. 
"The prompts and catalysts in the material brought our marriage to places we had never been. All five couples had life-transforming experiences and every single person started something new. It was a very powerful group experience," she proclaims with passion.
For her third season of growth, Deborah joined the staff at her beloved Centre Street Church in Calgary, helping to lead women's ministry. She planted more seed by inviting women into The Journey process. And again, she spent three years with them, going through the VP3 Pathway. 
"I think people hear God's love in our invitations," says this warm influencer. "When you start affirming what you see in people, God's glory gets released." That was 15 years ago. And this group of women Deborah planted rows of seed within, well, they were meeting in her home the evening of this interview. "We continue to meet over the years about every three weeks."
With humble reporting, she added, "out of those women, they are all actively mentoring a small group of other women."
This is the mustard-seed-way of God's kingdom. It may not look like much a face value, but wait and watch as it takes root and grows.
"I didn't realize at the beginning what I was a part of. But every time I said yes to things, something started to grow," Deborah says gratefully. "When we get to heaven we'll be able to see the garden in full. God is so faithful."
---